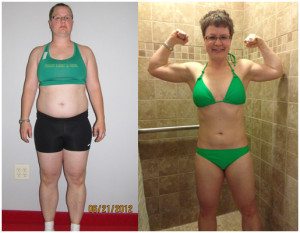 I began my health and fitness journey in the summer of 2010. I started training with Kami twice per week and doing cardio on my own. In no time, I had lost body weight, body fat, and most importantly gained muscle, felt stronger, more confident, and did my first triathlon in the summer of 2011.
I was doing great and stopped training with Kami for a while. Like a lot of people, without the direction, accountability, and motivation from Kami, I quit working out and gained the weight back plus some.
With my wedding coming up in September of 2012, I sought Kami out to train me again and get my butt back in shape. Working out soon became something I really enjoyed again.  I was back motivated, getting all of my workouts in, feeling great and by January 2013, it became a complete lifestyle change. I got my husband on board and soon he was working out, eating healthier, and losing weight as well. I have done two 5K's this past year with Kami and the other Fitmiss team.  I am currently training twice a week, and happy to say, doing my first 10K in August 2013. Even happier to say, I am looking for my first half marathon to run as well.
I am very excited with the body fat I am losing, strength I am gaining, the amount of weight I am lifting, and my cardiovascular endurance that seems to keep getting better and better.  I am looking forward to what my body and mind are capable of achieving!
Thank you to Kami for mentoring and training me. She is not only an awesome trainer but a great friend as well!